Hands full?  Yes.  But better than having empty arms and a broken heart.
It's not hard to see why Helene at I'm Living Proof earns this week's Literal Mom of the Day feature.  See, because that's her quote up there.  It's her tagline to her blog. 
And what better testament to the truth of motherhood than that line.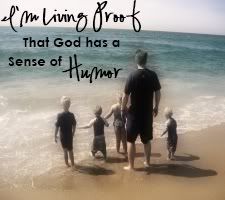 One hallmark of a Literal Mom is her tiger status if someone tries to hurt her child.  A Literal Mom is well aware of exactly who her child is, but if someone attacks, look out.  This post from Helene shows her ferocious tiger spirit.  I am in awe of her courage to write it.  But I'm so glad she did because it NEEDED to be said. 
Something Helene completely understands is the push and pull feelings of "how much is too much time with the kids" and "how much is not enough."  She captures it beautifully here.  Because, friends, there are days where we give every last ounce of our energy to them and they would still want more.  It's the nature of the job. 
She also recognizes how lonely and tired a Literal Mom can feel and how much one small kindness can help after a tough day. 
She's darned funny!  Which is, of course, a requirement of surviving parenthood!  One thing she's brilliant at is using her own children's quotes to remind us of how funny kids are (because some days they don't seem that funny to us, do they?)
And she captures, so beautifully, the nostalgia we feel when we watch our babies grow up and realize how much we miss their babyhood. 
So head over to Helene and read about why she's living proof God has a sense of humor.   You'll be happy you did.  Become a follower too, for goodness' sake - show her some love!  She has 2 sets of twins.  We think WE'RE tired?  Hardly. 
Would you like to be a Literal Mom of the Day this summer? Become a subscriber and tell me with a comment. I've given you 4 easy options to subscribe in the sidebars - RSS, Google Friend Connect, email subscription and by Typepad subscription. It's that simple. I'm truly enjoying this project and showcasing all of the Literal Moms out there.